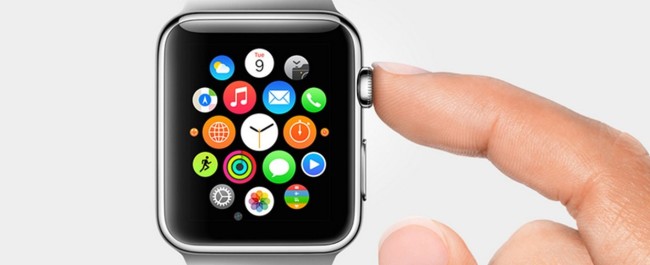 SPRING FORWARD: THE ORACLE OF THE LITTLE APPPLE HAS SPOKEN
The date: Monday 9 March, 10.00 a.m. East Coast of the USA, 6.00 p.m. in Spain. The guru: Tim Cook. The star of the keynote speech: the Apple Watch. Now that sales of ordinary watches have plunged, except for high-end or luxury models, Apple has re-launched a product that young people hardly ever use. Almost everybody checks the time on their smartphone. So this is quite a gamble.
For the "tech titan", i.e. Apple, this is the first planetary event since it launched the iPad in 2010.
The Apple Watch can be reserved from 10 April and will go on sale on 24 April in nine countries. Spain will have to wait a bit. It comes in various models and with different prices: Watch (metal), Watch Sport and Watch Edition. The latter is in 18-carat gold and Apple will install safes at its stores. Prices will range from $349 for the basic model to $10,000 for the gold version.
The user will be able to customize the display: in addition to time and date (after all it is a watch), there is a diary, the weather … Of course, it will serve as a telephone (we are all going to look like FBI agents) whispering into our phones. Although it is likely to have headphones.
The interesting thing is that the Apple Watch will provide us with information in situ. At the airport it will relate boarding information and confirm our booking when we reach the hotel … It will also open the doors of  hotels that are suitably equipped. It also has a feature that allows us, for example, to open the garage door. It sends and receives messages, called "Tocs", just like  "pokes" on Facebook.
And for  eternal teens, it constitutes another way to have fun: they can draw on the screen by touching it and their contacts will see the drawing in real time.
Another feature is that you will be able to measure your heart rate in real time and send the heartbeat rhythm to your contacts. Very romantic for lovers and dangerous for doctors! But according to "The Wall Street Journal", the sensors do not work very well and the American regulators place restrictions on information such as  the  blood glucose rate or stress measurement.
Apple has managed to play its cards very well and has presented its new toy after the Mobile World Congress in Barcelona, where its competitors (Hawei, Wiko, Guess, LG and Alcatel) had already shown their models. Its event outside the Congress schedule  created a huge buzz.
Another of the peculiarities of the presentation, staged in genuine Steve Job style, consisted of the mysterious invitations that were sent. They simply said: SPRING FORWARD. Modern English  at its best: concise and  marketing-friendly. We could translate it as CHANGE TO SUMMER TIME, something that happened on 8 March in the United States. The floral design also evokes spring.
But the big question is whether the Apple Watch will produce a new advertising revolution. Its hyper-localized location and its sales tracking in the physical stores constitute a succulent morsel for advertising. The Samsung Gear or Android Wear watches have failed to take off. But according to "Fortune", sales estimates range between 8 and 41 million units, so many believe the new Apple product could create a revolution, as  happened with the Ipod or IPhone at the time. As stated by Tim Cook, the product could be purchased by 5% of iPhone owners, which represents some 26.5 million watches. So the business prospects are  juicy.
Could this be the product advertisers dream about? The IPhone notifications have failed to engage  consumers when entering stores because the device remains in the pocket. But the Apple Watch will always be on your wrist and visibility is high. For example, according to advertisements disseminated by Apple, if you to go into a cafe, you can read on your Apple Watch: TRY OUR FRESH BREWED COFFEE FOR FREE BEFORE 10 am. So advertisers are rubbing their hands at the possibilities offered by Apple Watch.
But let us not put the cart before the horse,  because we do not yet know how much this watch will offer us. And Apple has not given many clues. All fans and followers of Apple know that, unlike Google and Facebook, the tech company has never been a seller of data. Its job is to sell equipment. In fact, Tim Cook always repeats the same refrain: "Apple is dedicated to making beautiful products and is not an advertising platform." And will those who invest $399 (the cost of a 42 mm model) or much more really  want to receive notifications every 100 meters?  Not to mention the question of how long  the battery might last.
It is clear that advertisers and advertising agencies want to grab the user's wrist. But we do not know whether Apple agrees. For now, they are doing quite well without going that far.
For Spanish speakers this new launch is a mine of English words, the same English language that reigns supreme on the Internet and in the social media. So we highly recommend them to read  articles and all kinds of information about the Apple Watch in English and take note of all the new words, since these terms will be repeated endlessly and we should know what they mean, even if we only want to "dazzle" our friends and acquaintances. An exercise: the term "to dazzle", something that Steve Jobs loved so much.
SIRK TRANSLATIONS.